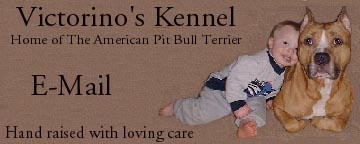 Victorino's Nui Ikaika DNA-VIP
Translation Big Large - Force Strength
Sire: Williams Red Rebel
Dam: Victorino's Belle Starr
Bred By Victorino's Kennel/Williams
Owners: Mark & Liza Ellis
CLICK HERE TO VIEW PEDIGREE
Updated 7/9/2006
Here are 6 pictures of Nui Ikaika Before he left to live with Mark and Liza

Ellis Family and Nui Ikaika relaxing on the couch.
Thanks for the pictures, we cant wait to see just how big and beautiful he gets
Nui Ikaika just a puppy
Tyler James and Nui Ikaika


What an awesome Boy !!
66 pounds of Victorino's red gold and still so young!
The Ellis family sent us their thanks
" THANK YOU FOR IKAIKA HE'S THE BEST!!"

We the Victorino's thank God for owners like the Ellis Family!
Thank you all for loving & owning the worlds best breed of dog.
Thank you for calling us to add to you family!

All dressed up and waiting to go out....
Liza and Nui Ika Ika