ACE of ACE UWPS UWPCHX UCD
GRAND CHAMPION
'PR' Victorino's Koa Pu'uwai
TC TT CGC DNA-P OFA good
Tyler James Victorino Butcher & Rebel Jo
ADBA Champion, ADBA Weight pull ACE
UKC United Weight Pull Champion of Excellent
'PR' Victorino's Tequila Sunrise
AKC Canine Good Citizen
UWP UCD CH Victorino's Ku'u Ipo Lani DNA-P CGC TT TC OFA (Good) OFEL
UKC's #4 Top Producing
American Pit Bull Terrier Female for 2004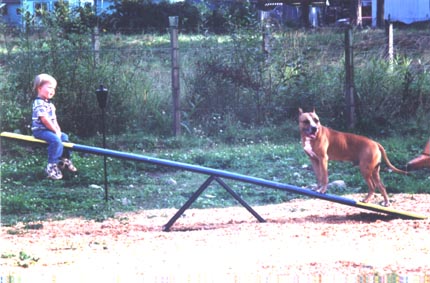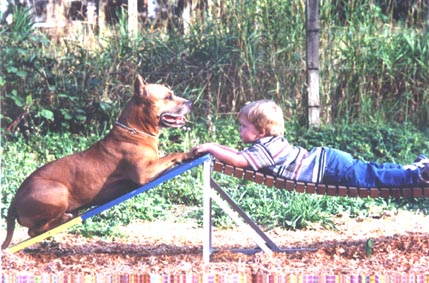 TYLER JAMES VICTORINO BUTCHER
ACE-UWPS UWPCHX UCD GRAND CHAMPION
VICTORINO'S IMAGE OF REBEL JO
DNA CGC TT TC
UWPS UWPCHX CH 'PR'
Victorino's "IZ" CGC
With all the things we do with our dogs, Agility titles should be on the top along with Obedience titles. But that would be true if we were the title chasers. The title dose not make the dog. A good dog should be able to accomplish the first three qualifying scores with out any problem. in both Agility and obedience.
Unfortunately we focused our time and money on conformation in both registry's and weight pull in ADBA with our dogs.
When we started to focused on Obedience and Agility with our dogs we caught wind that UKC may be offering weight pull. This was something UKC needed and we know others will enjoy too.
It was important to get something going before they change their mind about even needing weight pull.
We could always come back to any other venue that UKC already offers.
But if UKC was considering weight pull we wanted to help them to say yes.
UKC's slogan is "Our dog's do stuff."
We thought we would help them make that true!
We knew our dogs could do stuff and since we already had ADBA weight pull Ace's we needed UKC to offer weight pull too.
We helped to wright rules and build weight pull carts for wheels,snow and rails. Hauling equipment to weight pulls in and out of state. Judging shows and helping new pullers get a good start on the new UKC event.
Agility and Obedience took a back seat to weigh pull for UKC

We have always felt we don't need the title to prove to anyone are dogs are that dam good. We do basic tanning for our dogs that make our dogs good enough to take a qualifying score in basic agility or obedience.

Now that UKC has a successful weight pull program we can focus more on Agility and finish what we started.


Victorino's Kennel is a Registered Trademark.
VictorinosKennel.com™ and All pictures and pages related to VictornosKennel.com are a trademark of Victorino's Kennel and may not be duplicated without the express written consent from the owners of Victorino's Kennel.
Agility, the fastest growing canine sport in the world, canine agility provides both physical and mental challenges to both dog and handler. Agility glues the dog and human bond in a way no other sport does. The teamwork needed in agility is demanded by no other sport in which dogs and humans jointly participate. Because teamwork is the key to being successful in agility, and because the dog is off lead during competition, the dog must love agility, and must love doing it with his handler. Agility is the ultimate fun game for you and your dog. It also one of the most exciting UKC sports for spectators. In agility, a dog demonstrates is agile nature and versatility by following signals from the handler through a timed obstacle course. The course has jumps, tunnels, weave poles, and other obstacles. Agility strengthens the bond between dogs and handlers, it is extremely fun, and it provides vigorous exercise for both! Be prepared to loose weight and have fun with your pooch.