ACE of ACE UWPS UWPCHX UCD
GRAND CHAMPION
'PR'Victorino's Koa Pu'uwai
TC TT CGC DNA-P OFA good

Translated: "Brave Heart"

Breeder: Mary & Randy Rash
Updated on 11/7/2005
Click Here to View Koa's Pedigree

Johnathen and Koa taking High APBT in Obedience trial at the Northwest club. Great Job!
Johnathen the wonderful husband he is purchased me Rebel and Ipo after looking for years for the right dogs, better then any diamonds or pearls. Later I was able to fine just the perfect dog for him. There is nothing I could have gotten him that would have brought him more pleasure over the years then Koa.
There is a lot of love in this team.
Johnathen keeps the fine line between over working and keeping it fun for Koa. We have seen to many dogs over the years being drug to the weight pull track and that's not right.
On 6/24/01 Koa took most weight pulled and Most Weight Pulled Per Pound at the APBT Association of BC
Victorino's Kennel is a Registered Trademark.
VictorinosKennel.com™ and All pictures and pages related to VictornosKennel.com are a trademark of Victorino's Kennel and may not be duplicated without the express written consent from the owners of Victorino's Kennel.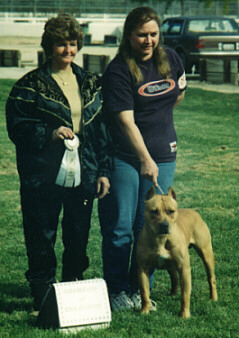 Champion of Champions
Judge Judy Jones
Thanks Judy!!
Photo by Janice Snyder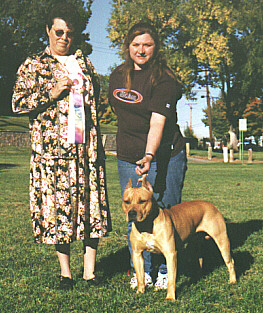 Reserve Champion of Champions!
Judge Sandy Comer
Thanks Sandy!!
Photo by Janice Snyder
Reserve Champion of Champions!
Judge Jim Jones
Thanks Jim!!
Photo by Janice Snyder
"Koa Pu'uwai's Accomplishments"
UKC: United Weight pull Champion Excellent (UWPCHX) 6/5/2004
UKC: United Weight pull Supreme (UWPS) 6/6/2004
UKC: United Weight pull Outstanding (UWPO) 3/7/2004
UKC: United Weight pull Champion Outstanding (UWPCHO)
UKC: United Weight pull Champion Versatile (UWPCHV) 3/7/2004
UKC: United Weight pull Champion (UWP CH) 2/9/2003
UKC: United Weight puller (UWP)14/13/2002
American Temperament Test Society Inc: (ATTS) #TT-305-APBT 10/5/2001
American Kennel Club Canine Good Citizen (CGC) 4/9/2000
German Shepherd Dog Club of America Inc.: Temperament Certified : (TC) 4/9/2000
UKC: United Companion Dog (UCD) 6/5/2000
ADBA: Weight Pull Champion (ACE) 9/29/2000 issued date
Orthopedic Foundation for Animals Inc.: OFA GOOD PBT --179G40M-PI 3/21/2001
UKC: Conformation Grand Champion (GR CH) 7/8/2001
Clailburne Kennel Obedience Course Degree 3/16/1999
PE AgGen-Certified DNA Analysis Profiled (DNA) 11/5/1998
UKC: Conformation Champion (CH) 9/12/1998

Koa takes "Best Male Puppy"
Photo by Valerie Piltz
Koa in one of his classes
L to R: Koa, 'PR' Triple Legit with owner Robert Bober,
And Jessi Bloom with 'PR' Atlas Larum's Majestic Malichai
KOA Went On To Win BOW!
Koa Takes his last Champion of Champion win to become a Grand, he took it on 7/8/01 under Judge Olen Nichols, in Gram Washington at the Puget Sound K-9 Club.