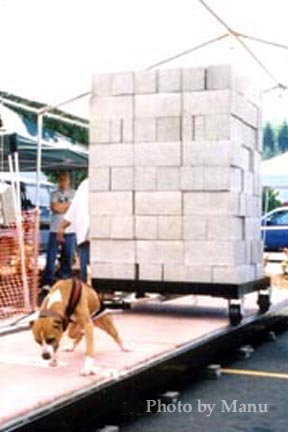 With a sire as grate as Victorino's Image of Rebel Jo, Just what would you expect ?
UKC MICHIGAN 2004 - THIS IS ONE LITTLE BITCH THAT KICKS A$$!
UKC's Top 25 All Stars for Weight Pull 2004
Tequila is the #1 APBT for the Year 2004
And will take 2005 - 2007 off to sit on her BUTT!
United Weight Puller = UWP
United weight puller Outstanding = UWPO
United Weight Puller Champion of Excellent= UWPCHX
United Weight Puller Versatile = UWPCHV
United Weight Puller Supreme = UWPS
Special thanks to Valerie Pilts for above weight pull photos
Val, is Well Known around UKC for Outstanding Photos and needed Help At shows!
GURL ! ..... SHOW THE BOYS HOW IT IS REALLY DONE!
UWPO UWPCHX 'PR' VICTORINO'S TEQUILA SUNRISE
TRAINED BY VICTORINO KENNEL
ADBA WEIGHT PULL ACE
YOU GET MORE FROM YOUR DOG WITH LOVE .... Family dog loyal companion
OUR POCKET PIT