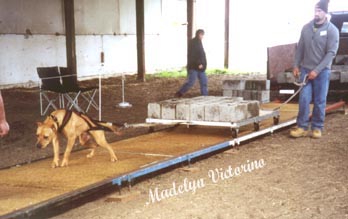 Lei Nani weight pulling at ADBA
Victorino's Kennel is a Registered Trademark.
VictorinosKennel.com™ and All pictures and pages related to VictornosKennel.com are a trademark of Victorino's Kennel and may not be duplicated without the express written consent from the owners of Victorino's Kennel.

Lei Nani lived her life around children as a loyal and devoted pet. Never having to prove she was a champion, because in her children's eyes that she protected everyday she was a champion. There will never be a dog quite like Lei Nani.
Her first home was not all that it was cut out to be, and she was returned to us. We let her live out her life with our family where she had many kids to play with. There she could be just a dog and never have to attend a show to prove anything. But she was a Victorino bred APBT and needs no Explanation! Lei Nani produced one litter for us.
Outstanding family dog devoted and loving her kids. Lei Nani Lived her life as a fat sassy old lady.
Rest in peace old girl for you gave these children something they will never for get.
As time goes on and they grow older they will think of you and smile for you were loved.
'PR' Victorino's Lei Nani
Sire: Ace of Ace UCD UWPS UWPCHX GRCH 'PR'
Victorino's Koa Pu'uwai
CGC TT TC DNA-P OFA good
Dam: UWP UCD CH
Victorino's Ku'u Ipo Lani
CGC TT TC DNA-P OFA good OFA EL UKCs #4 Brood Bitch 2004
Bred by: Johnathen & Madelyn Victorino of Victorino's Kennel
Owner: AW Brundage and Kids
Updated on 6/25/2007
CLICK HERE TO VIEW PEDIGREE

Sire: UCD UWPS UWPCHX GRCH ACE 'PR' Victorino's Koa Pu'uwai DNA-P OFA CGC TC
&
Dam: UCD UWP CH Victorino's Ku'u Ipo Lani DNA-P CGC TC OFA EL UKC #4 Brood Bitch For 2004
Lei Nani and Johnathen in the show ring.