Victorino's Kennel is a Registered Trademark.
VictorinosKennel.com™ and All pictures and pages related to VictornosKennel.com are a trademark of Victorino's Kennel and may not be duplicated without the express written consent from the owners of Victorino's Kennel.
This is my shavings this is my bed this is mine, mine mine
all mine!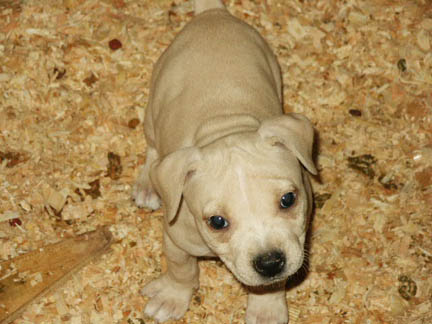 I'm to sexy for this page to sexy for this web-page
What you think about that?
Fire Fox a Foxy little female with a Fire attitude to match

Wishing for a little female Loea, Oh Jimmy watch out what you wish for!
When the time is right Fire Fox clams down to listen.
She learns fast, the fetch is a fun game and she listens very well.
The out command is the first command learned quickly here at the Victorino home.
Shortly she will be on her way to her new home with Jane & Jimmy.
Honestly it looks to me as Fox could care less that this shoe belongs to the master of the house.She drug this shoe from the bed room to the front room where she intended on destroying it. All the other pups found dog toys but she had other toys in mind. Now we have to do a bit of training here and make sure she knows what toys she can play with.
Johnathen let's her know she is a bad girl.Her attitude changes from holly terror to a perfect Angel. when he bent down to pick up his shoe, it seemed like she was saying
''Oh here is your shoe, I was keeping it safe from the others.''


Ya that's right not all the Victorino dogs are 85+ pounds. Most people think that all of our dogs are of the 65 pounds and up type. That could not be further from the truth. We have had our share of 28 to 35 pound ers.
Here is Victorino's Iron Hill Fire Fox at 6 months old weighing in at 21 pounds. When Fox's Grate Grand Dam (Victorino's Tequila Sunrise) made her ADBA Championship she only weighed in at 37 pounds.
Many people will only be guessing what lines of APBT's and the type of APBT 's we are producing.
This is all you need to know, We are The Victorino's and our passion is the American Pit Bull Terrier !

Photo below are before Fox left our home to stay with Jimmy & Jane.
Photos above will be from the Jimmy & Jane Hullander
This female will be the talk at the ADBA show ring!
Last updated on 4/29/2006
ADBA Salem County Fairgrounds - Woodstown, NJ.
Stacy from Stealhead Bulldogs seen Fire Fox at an ADBA show and wanted to show her for Jimmy and Jane.
Thanks Stacy for showing our baby girl and letting Jimmy know he has two show quality Victorino bred dogs!