Jason & Debbie, we hope Kia fits in very well at her new home. A Special thanks to you both from the Victorino's
Kia has a loving personality, give her a few days to adjust to all the new and different things at your home.
She Loves to curl up on the couch and watch TV just like a person.
She need lots of chew toys and treats and a place that is all her own.
She is going to be a beautiful female, Please send us photos as she grows up.
She looks allot like Ku'u Ipo Lani and that's a good thing! Ipo is my favorite female
We are just an Email or a Call away, if you need anything !

House and couch time .... Okay our puppy's are the only ones we ever let on the couch.
The puppy's, love getting their turn, for some one on one time with us.
They get to lay on the couch with us and get lots of love.
Just getting that extra attention and time alone just with us helps to build a good house dog.
Each night a different puppy gets to spend the evening with us, this is a time they don't have to fight for attention.
Now it's grate Kia has her very own loving family. She will love her new life because she loves to please.

Pit bulls need a job, Whether this job is obedience classes, taking a walk with you everyday, sitting at your feet while you are on the computer in the evenings, or something more intense such as search and rescue, a Pit Bull needs to feel important and needed. They are highly intelligent animals with fine tuned problem solving skills.
Pit bulls are actually one of the oldest and certainly one of the purest breeds.
Written pit bull pedigrees date into the late 1700's, something very few other breeds can boast of.
Pit bulls have been a registered breed longer than most AKC breeds have been in existence.
Louis Colby's father, John Colby, gave his son a handwritten pedigree of Colby's Blind Jack, an animal born in 1932.
The pedigree stretches back more than 50 years, naming, in Louis Colby's words,
"the best fighting dogs in England and America in the past fifty years."
In the mid 1880's, the breed was already old.
The history of the Pit bull is important, read about it and learn it. But the days of fighting dogs is over.
The next step this breed must endure is to show it can be more then what the history tells.
A breed of dog that is accepted in to the community as safe and intelligent canine.
A breed that is very easy to train, grate with children and is just as safe as any other breed.
The pit bull loves to please the owner.

Some people believe that dogs need to be outside all day so they can get plenty of exercise The truth is most dog don't exercise when they are in the yard by them self. They spend most of the time lying by the back door waiting for you to come home .
They are very willing to exercise with you in the yard. Fetch is fun and is very easy to teach!
Dogs do need exercise every day but will need you to help them get it.
This is Victorino's Kia checking out the yard. Every time I called her pretty puppy or pretty girl she would wag her tail!
Oh Ya, she know she is a beauty.
Victorino's Kennel is a Registered Trademark.
VictorinosKennel.com™ and All pictures and pages related to VictornosKennel.com are a trademark of Victorino's Kennel and may not be duplicated without the express written consent from the owners of Victorino's Kennel.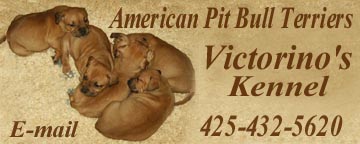 The $250.00 dollar deposit paid by Jason and Deborah to the Victorino Kennel for Victorino Kia was donated to
Children's Hospital Foundation in Seattle Washington on 3/30/2007
To help the fight for healthy happy Children!
Special thanks to Jason Smith & Deborah Rogers
Kia is one beautiful APBT she was born on 10-19-2006 so she is just 8 months old here.
What a chest eh ?
We just came home to Washington State from a show in beautiful British Columbia Canada .Checked out our email for an extra special surprise of six photos of Kia from her dad and mom.
Jason and Deborah, Thanks so much for the update and the photos, she is gorgeous and looks well loved.
Here is Kia and her new family member living the life of a Happy dogs
Johnathen and I have built our lives around our children and the APBT breed, we both have a deep love for Children and animals of all kinds. This is why we hold on to our pups until the right home comes to call.The pups we produce do not ever have to step foot into a conformation ring or into a weight pull shoot. The best homes are not alway's show homes and we prefer our pups to go to a family first then if they decide to show that is there choice. We do not need a judge to say our dogs are good enough, we know they are and we have been doing APBT's for over 30 years. Our dogs and produced pups speak for us we don't have to say a word!
Our pups don't have the big price tags, to make you think they are the best. You can buy any high priced dog you like but chances are if your into this breed you'll some day come across an outstanding APBT being walked and ask were did you get your pit bull and they will gladly say Victorino's Kennel.. But you can be the one instead getting asked is that a Victorino's APBT ?
We breed quality not quantity and wait for quality owners. Quality owners show case our dogs as loyal family pets and companions and that's a winner in our book.

This Page updated on 6/25/2007
American Pit Bull Terriers have superior physical and mental characteristics that make them excellent partners for responsible, active, and caring owners.

A very important characteristic of APBT's is their amazing love of people. Many people are surprised by the loving personality of these dogs the first time they meet one. APBT's are indeed remarkably affectionate and truly enjoy human attention. They are wonderful coddlers, and nothing beats a belly rub. In fact, most APBT's think they are lap dogs! APBT's are wonderful, loving, and very loyal companions. It is important however, to understand the breed's nature, to provide a structured environment, and to establish a positive leadership role. In order to do so, the APBT owners must understand the original purpose of the breed, and respect its limits and potential.
Jason and Deborah, You are doing an outstanding job with Kia.