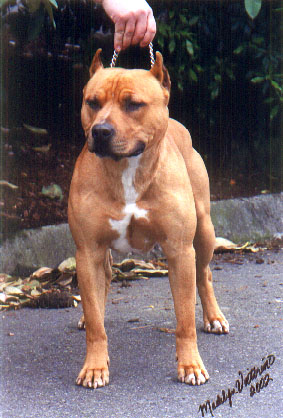 'PR' Victorino's Smoken Jo
"Bomber"
Victorino's Kennel is a Registered Trademark.
VictorinosKennel.com™ and All pictures and pages related to VictornosKennel.com are a trademark of Victorino's Kennel and may not be duplicated without the express written consent from the Owners of Victorino's Kennel.
'PR' Victorino's Smoken Jo
aka( Bomber )
Produced by: Johnathen and Madelyn Victorino of Victorino's Kennel
Owner: Dorianne Johnson & Family
Sire: CH 'PR' Victorino's Iron Cody of Rebel CGC TT TC DNA-VIP OFA OFEL
Dam: UWP UCD CH Victorino's Ku'u Ipo Lani CGC TT TC DNA-VIP OFA OFEL UKC's #4 Brood Bitch for 2004
This Page last updated on 8/10/2006
Click Here to view Pedigree
Dorianne called us on a friday just before a UKC show weekend in 2002. Dorianne wanted us to see her boy at one and half years of age. We had her meet us at the show site that Saturday morning. When Bomber left our yard he was a small puppy. She sent us picture of him at one year but until we seen him in person we didn't realize just how nice he was. These photos were taken early that morning just before the show. I told her I would handle him in the show ring if she wanted me to, she agreed. His first show ever, first time I've handled him sense he was weeks old. Victorino's Smoken Jo, took a Major (Best Male). Very Impresive!
We respect other disires for their pups they purchase from us, and we know Dorianne is way to buissy for the show world.
Dorianne is not all into the show thing and just loves her boy, that's just fine with us! It is really nice to know that the pet you get from us can be just as good as any show prospect! You really don't need the title to tell you your dog has grate conformation structure and movement.
Dorianne knows she has more then just a pet in her home, that is what really matters.....
Ya we sell more then just a pet, but if that's all you want, that is 100% Okay with US!
A Grate family dog that brings you years of joy is all we hope for each time one leaves our home.
Bomber is awesome!
He has a wonderful family life!
If you see a wonderful looking American Pit Bull Terrier riding on a speed boat in Lake Washington, It Just might be Bomber!
Bomber loves swimming and boating with the family....
Dorianne let us know ..... They are stopped all the time and asked where they got such a wonderful looking APBT she lets them know proudly "Victorino's Kennel" and has passed our name to many.
Bomber is a grate ambassador for the Victorino Kennel. Bomber has set grate examples for the public to view the APBT in a natural family setting.
In 1999 Dorianne and her boy friend Tim Woods purchased a puppy ( Captain Morgan ) from us out of PR' Victorino's Koa Pu'uwai. Dorianne, fell in love with the dog. They were like many and would go to the AAPBA shows in there area to see other Pit bulls. Of course they were proud of their new puppy and had let others know who he was out of.
They came home one day to find someone had stolen the Victorino puppy out of their Locked kennel. They had two other young pit bulls and both were still there not touched. They called us and sent us pictures. We put out the word on message boards and our web site but never found the Victorino Puppy. Hearts were broken...
~~~~~
Dorianne wanted another dog from our Lines, and we were more then happy to place a dog into her home again!
After Dorianne married and settled into her new home. She called us and came over to our home and picked out Smoken Jo. Smoken Jo is out of Cody & Ipo and that was an incredible breeding, one of our personal favorites!
Smoken Jo or Bomber as he is known by the family has made Dorianne and us very proud, she still lets everyone know she got her dog from Victorino's Kennel. But no longer attends the AAPBA shows, for good reasons.