UWPCH 'PR' Victorino's Red Tank
Owner: Greg & Caryl Brennan
Bred By: Victorino's Kennel
Sire: GR CH I, UWP CH 'PR' Victorino's Rebel's Red Ace TT
Damn: Victorino's Red Queen Of Hearts
CLICK HERE TO VIEW PEDIGREE
Updated on 9/19/2005
Victorino's Kennel is a Registered Trademark.
VictorinosKennel.com™ and All pictures and pages related to VictornosKennel.com are a trademark of Victorino's Kennel and may not be duplicated without the express written consent from the owners of Victorino's Kennel.
Tank is an outstanding dog with a personality to match.
Tank has one of the best personality's that we have seen in a pit bull.
He loves to show off and really loves the attention he gets when pulling.
Weight pull is in his Blood, Tank has become one hell of a pulling dog.
This boy is a people pleaser he loves people.
Just being a lap dog is okay with Tank too, you know the TV a Beer and just Kick-en Back catching up on sports news the playboy channel you know all the good stuff.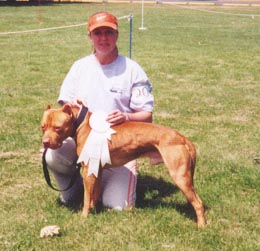 Caryl Brennan & Tank
ADBA Show.
Red Tank was the second Victorino Bred dog for the Brennan's. When Greg found out that we had a litter of Red Rednose pups his mind was made up. He was going to have one. They came out and Greg picked the dog that we called "Hooch."
Tank is the product of Victorino's Rebels Red Ace and Victorino's Red Queen of Hearts.
When Tank turned 6 months old we invited Greg and Caryl to an ADBA fun show. That is when Greg and Caryl were introduced to Weight Pulling for the first time. THEY WERE HOOKED! Greg said at that time that Tank was going to be among one of the Victorino's Weight Pulling Champions.
So now without further ado, we are Honored to introduce you to The Brennan's "UNITED WEIGHT PULL CHAMPION VICTORINO'S RED TANK"
You were right Greg! He's made it and working hard to keep your Dream Alive!


Rock Solid Temperament
Tanks Temperament is the Epitome of what the APBT is supposed to be.
Shown here with our Grandson Tyler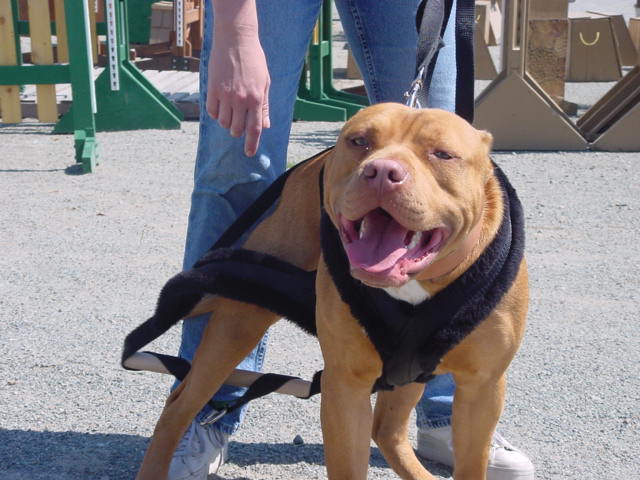 This is One Happy Dog!